About the Host
About NOB-A The Nautical Club of Volos, known initially as NOV and later with the merge of the Argonaftes as NOB-A, is a historical nautical club with continuous action and continuous distinctions. Dominated by the element of water, offshore and inland –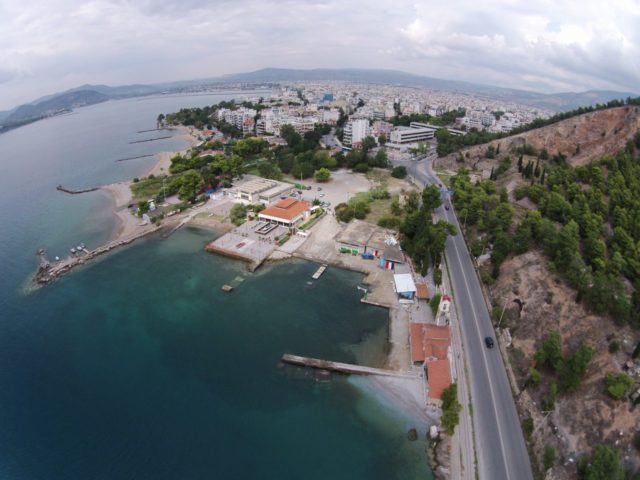 swimming schools and swimming pools, NOB-A is synonymous with terms such as swimming and rowing, sailing and canoeing – kayaking, diving and synchronized swimming but also technical swimming and standing rowing sport better known as S.U.P. (Stand up Paddle). The group was founded in 1932, based on the principles of "ευ αγωνίζεσθαι" in Greek which means "fair play" and noble rivalry. All these years, its athletes with values, ethos and high athletic ideals, have achieved great Pan-Hellenic, Pan-European and World distinctions and have made the group one of the most important Associations in Greece and the First in the city of Volos. The Nautical Club of Volos operates with continuous sports and social activities, giving substantial physical and mental support to children and young people and substantial engagement to coaches and specialized sports agents. Nautical Club of Volos actively participates in events of special and general interest, actively participating in the promotion of the city of Volos and Magnesia, while at the same time representing the country worthily in International and World sports competitions. The Nautical Club of Volos, actively supports sports by supporting the continuous improvement of body and mind, while highlighting the abilities and skills of athletes, serving the saying "A healthy mind in a healthy body".
Venue map, Facilities and stores
The club is designed for sailing and many other sports, with a large boat park in between the main clubhouse and beach, plenty of hoses, showers, and areas to hang out before and after sailing. The club's bar and restaurant are very popular during events, with spectacular sunsets. The restaurant offers a wide range of Mediterranean cuisine , with the ability to cater to special dietary needs on request.  
Restaurant and café (open from 07:30 to 03:00)
Large open-air with tables and seating for 550.
Professional kitchen serving at reasonable prices, and bar. Staff are proficient at catering to special dietary needs as well.
Facilities are checked throughout the day to ensure hygiene.
Wifi available throughout the property.
Live streaming of the races for the visitors
  Rowing House 
Gym for the athletes to train
Medical Center will be available during the venue with first aid team (nearest hospital 0,5km away).
Twelve showers
Men's and women's locker rooms
  Building 1
Large airconditioned race office and meeting / jury hearing rooms.
Private media / jury / scoring / other office space in airconditioned.
Reception and club office with full time staff available to assist on request.
  Preserver for Athletes
Three multi sailing stores
Exclusive sailing Zhik store
Exclusive Yeti store
Souvenir store & World event 2023 ilca 4 store
Greek Cantina Souvlaki and Gyros
Car parking space
Electric vehicle charging station
  Other Facilities 
Dining area for the athletes
  Sailing Building
Weather Station
Race Committee office
Chairman of the Race
  Racing Location , weather conditions, tidal conditions
Race area is in Pagasitikos Gulf in front of Anavros Volos with typical Greek Summer weather conditions. Sea breeze from south east direction starts every day from 11.00 and hold an average of 11 knots until late in the afternoon. Many times, the velocity reaching 17 to 18 knots from 14.00 to 19.00 in a steady south easterly direction.   There are no tides or current around the race area specially during the summer time. Nautical Club of Volos has a big venue including two ramps for launching the boats and two small beaches inside the area. Also, exactly next to it there is a big sandy beach of Anavros. in the middle of the venue there is a bar- restaurant owned by the Club which will be used for the needs of the championship.  
Where to stay
The hotels that are co-operating with the event will be announced on July 31rst and will have better prices and privileges such as:
Free transportation from the hotel to the event area
Help desk 24/7
Screens with live streaming of the races and then review of the match, objections, postponements, results and live information for the venue
Food appropriate for athletes
Safety recommendation of the Club
Around Volos
Athanasakeion Archaeological Museum of Volos
The Rooftile and Brickworks Museum N. & S. Tsalapatas
Entomological Museum of Volos
Palia District
Nicholas Metropolitan Cathedral
Church of Saints Constantine and Helena
Museum of the City of Volos
Agiou Konstantinou Park
Lake Karla
Exploring Pelion
Pelion is one of Greece's popular mountain. Its lovely to visit in summer and in winter. It has many small traditional villages that take your breath. The most popular mountainous villages are Makrinitsa, Portaria, Milies, Zagora, Tsagarada and some great seaside villages such as Agios Ioannis, Chorefto, Ntamouchari and many other are definitely a must to visit. Pelion also haw a ski resort which haw the view of two seas, the Aegean and the Pagasitiko.
Location/Contact
Nautical Club of Volos (NOV-A)
Αkti ΝΟΒ, Volos 38221
Tel: 2421 020376
Mail: nfo@novargonaftes.gr
For Athletes, Coaches and Teams contact
event2023@novargonaftes.gr